We understand that confinement is a critical time for new mothers to heal, restore and revitalise.
The recovery of energy, replenishment of Qi and blood, healing of wound and recalibration of hormonal balance all take place in the first four weeks after childbirth.
A well-balanced and nutritious diet is essential to support recovery while promoting lactation.
Finest of herbs and gourmet ingredients
From our choice of herbs to the use of the highest quality ingredients, every single component and detail of our menu is carefully crafted. Our meals contain no sodium salt and MSG, are low in fat, rich in nutritional value, and full of flavour. All soup dishes are double boiled for hours to lock in the nutrients and natural goodness of the ingredients.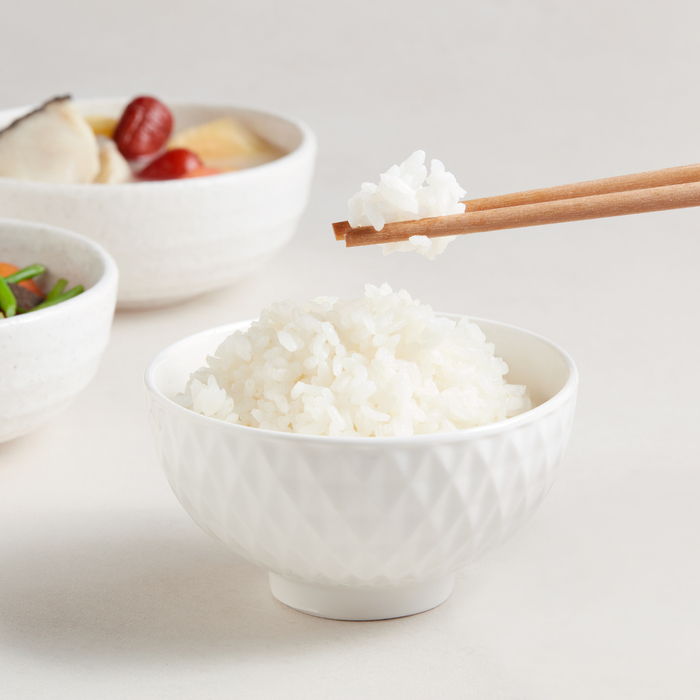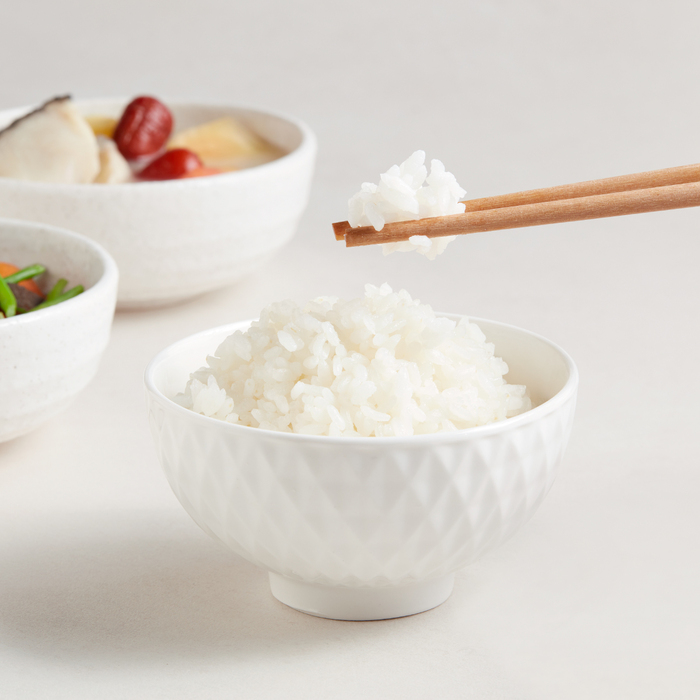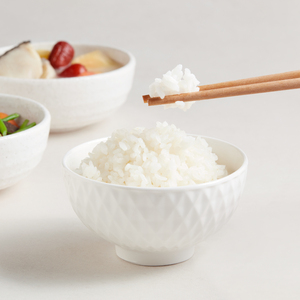 Kinmemai Better White Rice
Kinmemai Better White Rice
Enjoyed by the Japanese people over the past decade, Kinmemai is world's first health inspired rice.
Imported from Japan, Kinmemai is a gourmet specialty rice unlike any other. Manufactured through the patented Kinmemai process, which enhances both the taste and nutrition of tender rice grains, it will please both the gourmands and the nutrition-minded alike.
Kinmemai Better White™ has a slightly buttery, mildly nutty taste and a moist, creamy texture that is superior to that of conventional white rice.
7x More

Vitamin

6x

LPS*

1.8x More

Vitamin B6

17% Less

Calories

1.4x More

Folic Acid

14% Less

Sugar

1.8x More

Dietary Fibre
*Lipopolysaccharides (LPS) -
A natural immune system booster which helps strengthen our immunity against cancer, flu and other infections.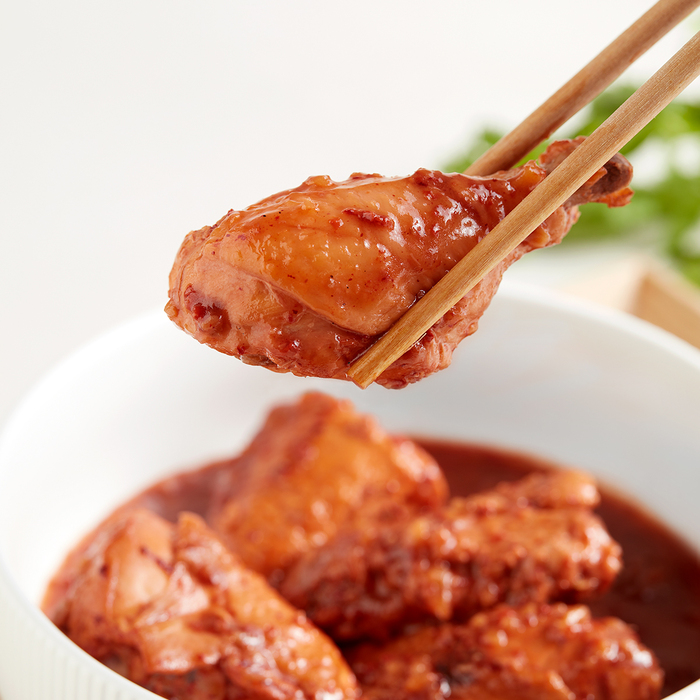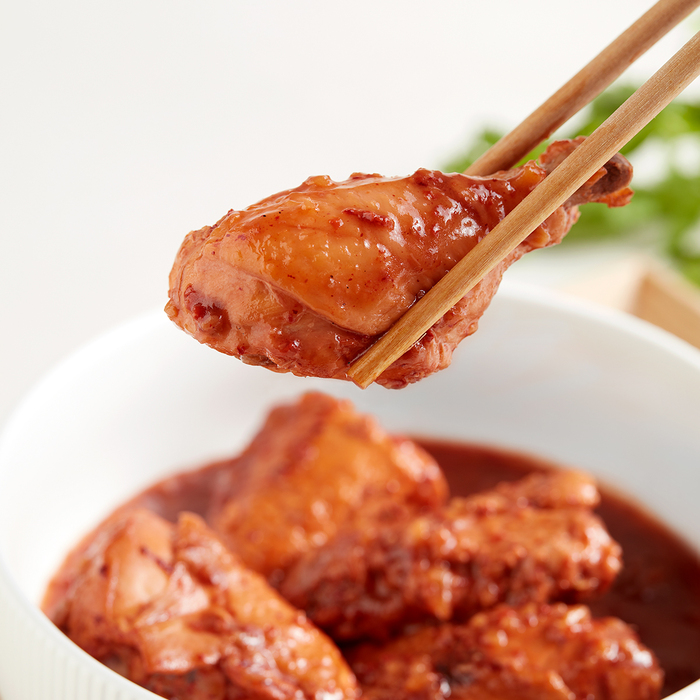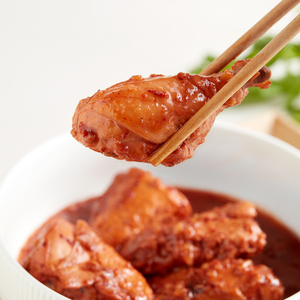 Sakura Chicken
Sakura Chicken
Sakura Chickens are raised at eco-friendly farms and housed in a clean and hygienic environment with ample space for movement and carefully controlled temperature. They are fed with lactobacillus to strengthen their immune systems naturally, and are not administered with antibiotics. As a result, Sakura Chickens are exceptionally tender, succulent, and delicious.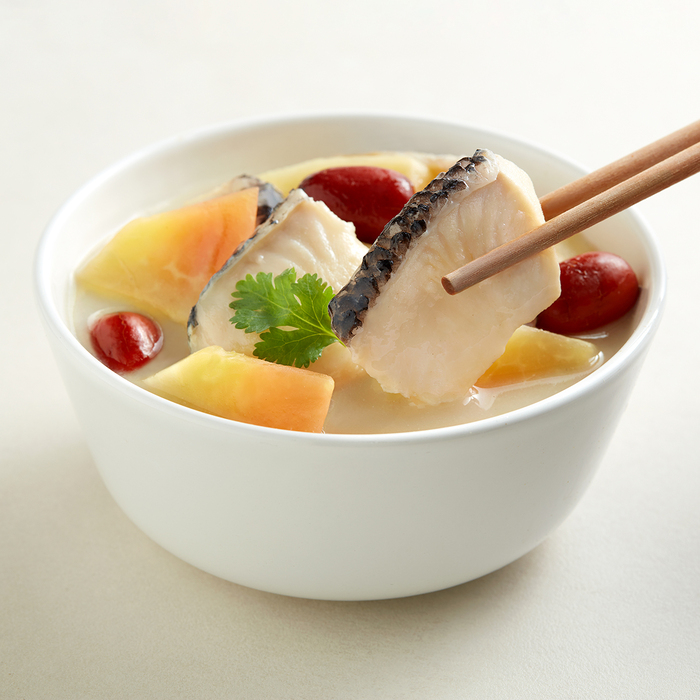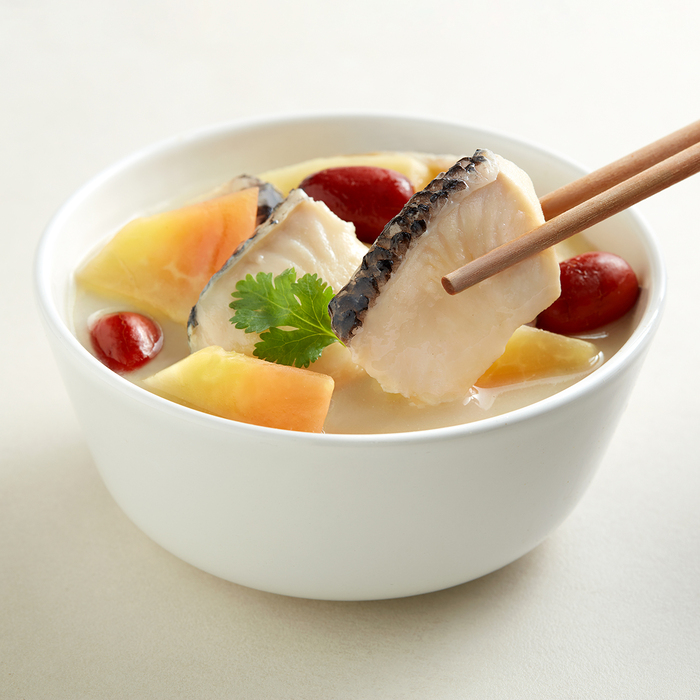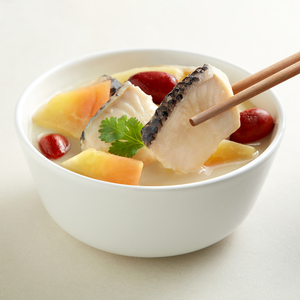 Sheng Yu Fillet
Sheng Yu Fillet
Sheng Yu Fillet (Snakehead fish) is known to be good for post-surgery recuperation due to its anti-inflammatory properties and its polyunsaturated fatty acids content that helps to aid wound healing.
Developed with Lactation Consultants, TCM Physicians and Dieticians
Specially developed with our in-house team of Lactation Consultants, Traditional Chinese Medicine Physicians and Dieticians, our menu is divided into two cycles. The first cycle consists of mild recipes to aid digestion while the second contains food rich in nourishment for optimal recovery.

+ Sweeten your day with our homemade dessert served during dinner twice a week
Menu Cycles
Our 28-Day Lunch and Dinner Menu consists of two cycles.
Our meals are served on a rotational basis. For instance, your first meal could be Menu 6, as such your subsequent meals will be Menu 7, 8, 9, 10, before looping back to Menu 1, 2, 3, 4, 5 to complete the First Cycle. The same applies for the Second Cycle.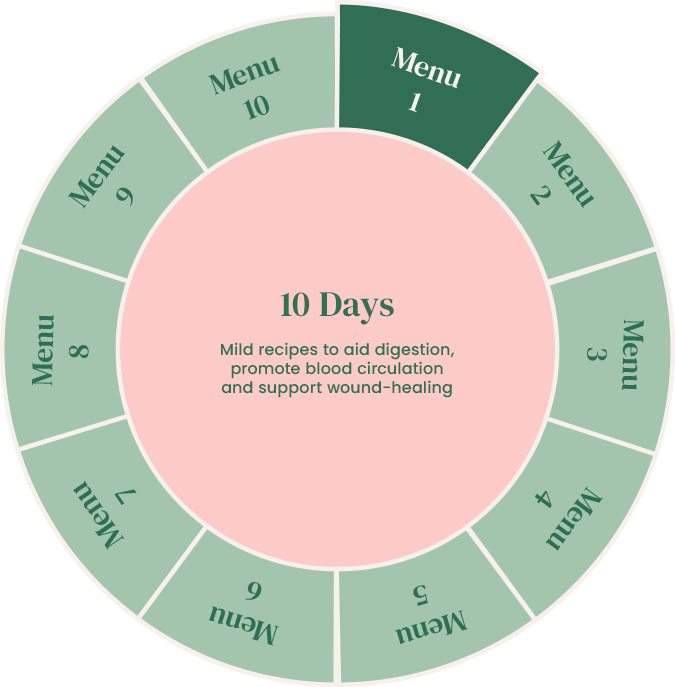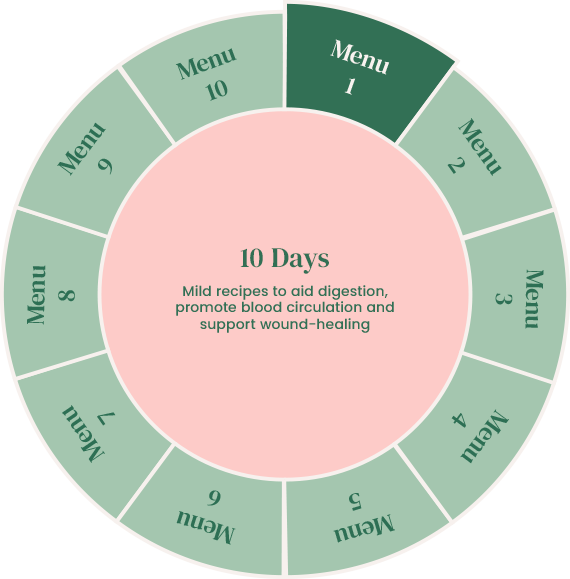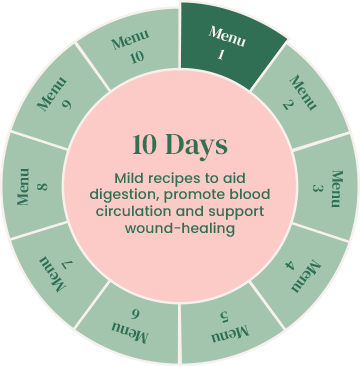 Menu 1
Lunch
Stir Fried Kai Lan with Lean Meat, Wolfberries & Ginger
Stir Fried Pig's Liver with Ginger & Spring Onion
Chicken & White Fungus Soup
---
Dinner
Stir Fried Spinach with Wolfberries
Steamed Egg with Minced Meat
Fish Soup with Bai He & Yu Zhu
Menu 2
Lunch
Stir Fried Broccoli with Fresh Scallops
Steamed Pork Ribs with Wine & Ginger Paste
Black Chicken Soup with Dang Shen, Chinese Yam & Tong Cao
---
Dinner
Stir Fried Assorted Mushroom
Steamed Threadfin
Pork Ribs with Black Bean Soup
Menu 3
Lunch
Stir Fried Snow Peas with Lean Meat & Wolfberries
Steamed Fish with Lily Flower & Black Fungus
Pork Rib Soup with Ground Nuts & Walnuts
---
Dinner
Stir Fried Baby Kai Lan with Lean Meat & Basil Leaves
Sesame Chicken with Ginger
Fish & Papaya Soup
Menu 4
Lunch
Long Bean Omelette with Shredded Ginger
Stir Fried Sliced Fish with Mixed Vegetables
Lemongrass Chicken Soup
---
Dinner
Stir Fried Asparagus with tri-coloured Capsicums
Baked Herbal Chicken
Pork Ribs Soup with Dang Shen & Chinese Yam
Menu 5
Lunch
Homemade Beancurd with Fresh Scallops
Steamed Chicken with Black Fungus & Cordyceps Flower
Pork Ribs with Lotus Root Soup
---
Dinner
Stir Fried Chinese Spinach with Silver Fish
Pan Fried Fish Fillet topped with Shredded Ginger
Chicken & Fish Maw Soup
Menu 6
Lunch
Stir Fried Broccoli with Fresh Abalone Mushroom
Steamed Chicken with Ginger Paste
Pig's Stomach with Pork Ribs Soup
---
Dinner
Luo Han Vegetable
Braised Pork with Black Fungus
Fish & Papaya Soup
Menu 7
Lunch
Baked Pumpkin
Grilled Salmon with Mirin Sauce
Pork Ribs with Red Bean Soup
---
Dinner
Stir Fried Shanghai Green with Crispy Ginger
Stir Fried Pig's Kidney with Lean Meat & Black Fungus
Black Chicken with Cordyceps Militaris Soup
Menu 8
Lunch
Stir Fried Sweet Peas with Shredded Pork & Carrot
Stir Fried Sheng Yu Fillet with Sweet & Sour Sauce
Chicken Soup with Chinese Yam, Chestnuts & Longan
---
Dinner
Stir Fried Dou Miao with Ginger & Garlic
Braised Pork Knuckle with Groundnuts & Black Beans
Fish Soup with Bai He & Yu Zhu
Menu 9
Lunch
Stir Fried Chayote with Silver Fish
Steamed Threadfin
Black Chicken Soup with Dang Shen, Chinese Yam & Tong Cao
---
Dinner
Spinach with Black Fungus & Wolfberries
Sesame Chicken with Ginger
Pork Ribs with White Fungus Soup
Menu 10
Lunch
Stir Fried Broccoli with Fresh Scallops
Baked Herbal Chicken
Fish & Papaya Soup
---
Dinner
Stir Fried Long Beans with Lean Meat
Steamed Fish with Ginger topped with Wolfberries
Pork Ribs with Black Bean Soup
Menu 1
Lunch
Stir Fried Kai Lan with Lean Meat, Wolfberries & Ginger
Stir Fried Pig's Liver with Ginger & Spring Onion
Chicken & White Fungus Soup
---
Dinner
Stir Fried Spinach with Wolfberries
Steamed Egg with Minced Meat
Fish Soup with Bai He & Yu Zhu
Menu 2
Lunch
Stir Fried Broccoli with Fresh Scallops
Steamed Pork Ribs with Wine & Ginger Paste
Black Chicken Soup with Dang Shen, Chinese Yam & Tong Cao
---
Dinner
Stir Fried Assorted Mushroom
Steamed Threadfin
Pork Ribs with Black Bean Soup
Menu 3
Lunch
Stir Fried Snow Peas with Lean Meat & Wolfberries
Steamed Fish with Lily Flower & Black Fungus
Pork Rib Soup with Ground Nuts & Walnuts
---
Dinner
Stir Fried Baby Kai Lan with Lean Meat & Basil Leaves
Sesame Chicken with Ginger
Fish & Papaya Soup
Menu 4
Lunch
Long Bean Omelette with Shredded Ginger
Stir Fried Sliced Fish with Mixed Vegetables
Lemongrass Chicken Soup
---
Dinner
Stir Fried Asparagus with tri-coloured Capsicums
Baked Herbal Chicken
Pork Ribs Soup with Dang Shen & Chinese Yam
Menu 5
Lunch
Homemade Beancurd with Fresh Scallops
Steamed Chicken with Black Fungus & Cordyceps Flower
Pork Ribs with Lotus Root Soup
---
Dinner
Stir Fried Chinese Spinach with Silver Fish
Pan Fried Fish Fillet topped with Shredded Ginger
Chicken & Fish Maw Soup
Menu 6
Lunch
Stir Fried Broccoli with Fresh Abalone Mushroom
Steamed Chicken with Ginger Paste
Pig's Stomach with Pork Ribs Soup
---
Dinner
Luo Han Vegetable
Braised Pork with Black Fungus
Fish & Papaya Soup
Menu 7
Lunch
Baked Pumpkin
Grilled Salmon with Mirin Sauce
Pork Ribs with Red Bean Soup
---
Dinner
Stir Fried Shanghai Green with Crispy Ginger
Stir Fried Pig's Kidney with Lean Meat & Black Fungus
Black Chicken with Cordyceps Militaris Soup
Menu 8
Lunch
Stir Fried Sweet Peas with Shredded Pork & Carrot
Stir Fried Sheng Yu Fillet with Sweet & Sour Sauce
Chicken Soup with Chinese Yam, Chestnuts & Longan
---
Dinner
Stir Fried Dou Miao with Ginger & Garlic
Braised Pork Knuckle with Groundnuts & Black Beans
Fish Soup with Bai He & Yu Zhu
Menu 9
Lunch
Stir Fried Chayote with Silver Fish
Steamed Threadfin
Black Chicken Soup with Dang Shen, Chinese Yam & Tong Cao
---
Dinner
Spinach with Black Fungus & Wolfberries
Sesame Chicken with Ginger
Pork Ribs with White Fungus Soup
Menu 10
Lunch
Stir Fried Broccoli with Fresh Scallops
Baked Herbal Chicken
Fish & Papaya Soup
---
Dinner
Stir Fried Long Beans with Lean Meat
Steamed Fish with Ginger topped with Wolfberries
Pork Ribs with Black Bean Soup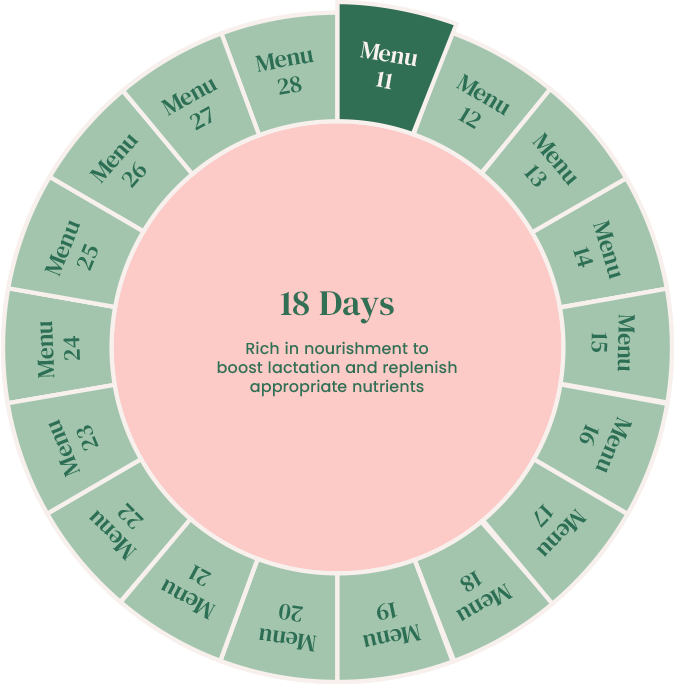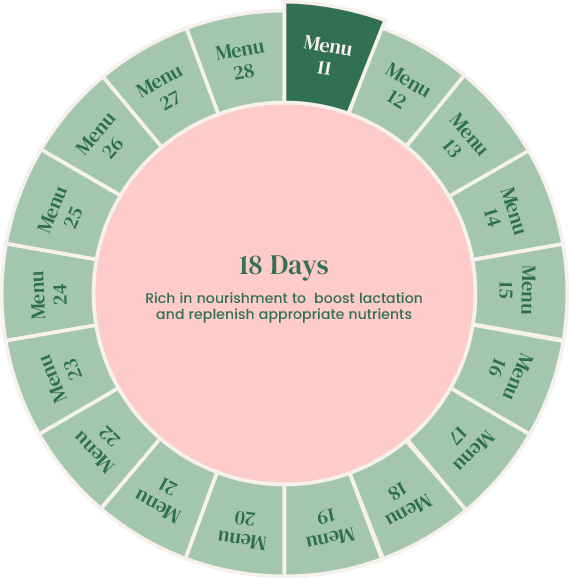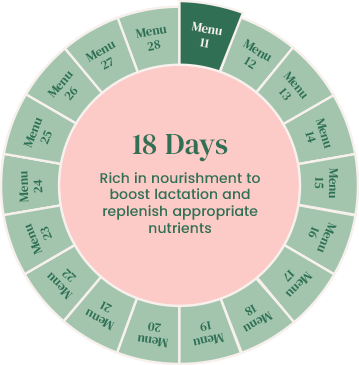 Menu 11
Lunch
Stir Fried Chinese Spinach with Crispy Ginger
Pan Fried Mirin Pork Chop
Double Boiled Chicken Ginseng Soup
---
Dinner
Stir Fried Baby Kai Lan with Scallops
Steamed Fish with Lily Flower & Black Fungus
Spare Ribs Soup with Dang Gui & Chinese Yam
Menu 12
Lunch
Marrow Green with Vermicelli
Grilled Honey Black Pepper Chicken
Pig's Stomach with Pork Ribs Soup
---
Dinner
Wok Fried Nai Bai with Ginger
Braised Chicken with Sea Cucumber & Black Mushroom
Fish & Papaya Soup
Menu 13
Lunch
Stir Fried Assorted Mushroom
Stir Fried Pork with Rice Wine & Ginger
Sheng Yu Fillet with Spinach & Wolfberries Broth
---
Dinner
Stir Fried Snow Peas with Lean Meat & Wolfberries
Stir Fried Black Pepper Sliced Fish with Capsicum
Double Boiled Black Chicken and He Shou Wu
Menu 14
Lunch
Stir Fried Asparagus with Fish Maw & Capsicum
Grilled Salmon with Mirin Sauce
Double Boiled Sakura Chicken with Cordyceps Militaris Soup
---
Dinner
Stir Fried Chinese Spinach with Silver Fish
Braised Hong Zao Chicken
Double Boiled Pork Ribs Soup with Chinese Yam & Red Dates
Menu 15
Lunch
Stir Fried Sweet Peas with Scallops & Carrots
Silver Fish Omelette
Pig's Trotters in Vinegar
---
Dinner
Stir Fried Cauliflower with Lean Meat & Ginger
Steamed Threadfin with Dang Gui & Black Fungus
Double Boiled Black Chicken Soup with D.O.M
Menu 16
Lunch
Baked Pumpkin
Steamed Chicken with Lily Flower & Dang Gui
Fish & Papaya Soup
---
Dinner
Luo Han Vegetable
Stewed Pork Ribs with Sea Cucumber & Black Mushroom
Ginseng Chicken Soup with Glutinous Rice
Menu 17
Lunch
Stir Fried Kai Lan with Lean Meat & Basil Leaves
Steamed Chicken with Black Fungus & Cordyceps Flower
Double Boiled Spare Ribs Soup with Black Beans
---
Dinner
Homemade Beancurd with Fresh Scallops
Braised Pork Ribs with Chestnuts & Wolfberries
Black Chicken Soup with Dang Shen, Chinese Yam & Tong Cao
Menu 18
Lunch
Wok Fried Nai Bai with Ginger
Steamed Sakura Chicken with Rice Wine
Fish Soup with Bai He & Gingko Nuts
---
Dinner
Stir Fried Snow Peas with Lean Meat & Wolfberries
Pan Fried Mirin Pork Chop
Double Boiled Chicken Soup with Yomeishu
Menu 19
Lunch
Stir Fried Pumpkin with Wolfberries topped with Honshimeiji Mushroom
Stir Fried Sliced Fish with Mixed Vegetables
Pork Ribs Soup with Ground Nuts & Red Dates
---
Dinner
Stir Fried Shanghai Green
Stir Fried Pork with Rice Wine & Ginger
Chicken & Fish Maw Soup
Menu 20
Lunch
Stir Fried Chinese Spinach with Crispy Ginger
Grilled Salmon with Capsicum
Spare Ribs Soup with Red Bean
---
Dinner
Stir Fried French Bean with Shiitake Mushroom
Silver Fish Omelette
Black Chicken Ginseng Soup
Menu 21
Lunch
Braised Lotus Root with Red Dates & Wolfberries
Teriyaki Grilled Fish
Lemongrass Chicken Soup
---
Dinner
Stir Fried Cauliflower with Lean Meat & Ginger
Braised Chicken with Chestnuts & Wolfberries
Fish & Papaya Soup
Menu 22
Lunch
Stir Fried Chayote with Silver Fish
Braised Sea Cucumber with Chicken
Fish Soup with Bai He & Yu Zhu
---
Dinner
Stir Fried Dou Miao with Ginger
Steamed Threadfin with Dang Gui & Black Fungus
Pork Ribs Soup with Lotus Root & Walnut
Menu 23
Lunch
Marrow Green with Vermicelli
Hong Zao Fish
Ginseng Chicken Soup with Glutinous Rice
---
Dinner
Stir Fried Broccoli with Fresh Abalone Mushroom
Sesame Chicken with Ginger
Pig's Tail with Eucommia Bark Soup
Menu 24
Lunch
Stir Fried Spinach with Wolfberries
Teriyaki Chicken
Pork Ribs Soup with Ground Nuts, Chinese Yam & Red Dates
---
Dinner
Luo Han Vegetable
Grilled Salmon with Mirin Sauce
Double Boiled Black Chicken Soup with Dang Gui & Chinese Yam
Menu 25
Lunch
Stir Fried Kai Lan with Lean Meat & Basil Leaves
Steamed Threadfin
Pork Ribs with Black Bean Soup
---
Dinner
Stir Fried Asparagus with Fish Maw & Capsicum
Steamed Egg with Minced Meat
Chicken & White Fungus Soup
Menu 26
Lunch
Shanghai Green with Ginger
Hong Zao Pork Ribs
Ginseng Fish Soup
---
Dinner
French Bean Omelette with Shredded Ginger
Stir Fried Sliced Fish with Mixed Vegetables
Double Boiled Chicken Soup with D.O.M
Menu 27
Lunch
Grilled Pumpkin
Pan Fried Fish Fillet
Pig's Trotters in Vinegar
---
Dinner
Stir Fried Chinese Spinach with Lean Meat & Basil Leaves
Steamed Chawanmushi with Fresh Scallops & Shiitake Mushroom
Double Boiled Sakura Chicken with Cordyceps Militaris Soup
Menu 28
Lunch
Wok Fried Nai Bai with Ginger
Teriyaki Grilled Fish
Black Chicken Soup with He Shou Wu
---
Dinner
Stir Fried Shiitake Mushroom with Black Pepper Sauce
Stir Fried Pork with Rice Wine & Ginger
Chicken & Fish Maw Soup
Menu 11
Lunch
Stir Fried Chinese Spinach with Crispy Ginger
Pan Fried Mirin Pork Chop
Double Boiled Chicken Ginseng Soup
---
Dinner
Stir Fried Baby Kai Lan with Scallops
Steamed Fish with Lily Flower & Black Fungus
Spare Ribs Soup with Dang Gui & Chinese Yam
Menu 12
Lunch
Marrow Green with Vermicelli
Grilled Honey Black Pepper Chicken
Pig's Stomach with Pork Ribs Soup
---
Dinner
Wok Fried Nai Bai with Ginger
Braised Chicken with Sea Cucumber & Black Mushroom
Fish & Papaya Soup
Menu 13
Lunch
Stir Fried Assorted Mushroom
Stir Fried Pork with Rice Wine & Ginger
Sheng Yu Fillet with Spinach & Wolfberries Broth
---
Dinner
Stir Fried Snow Peas with Lean Meat & Wolfberries
Stir Fried Black Pepper Sliced Fish with Capsicum
Double Boiled Black Chicken and He Shou Wu
Menu 14
Lunch
Stir Fried Asparagus with Fish Maw & Capsicum
Grilled Salmon with Mirin Sauce
Double Boiled Sakura Chicken with Cordyceps Militaris Soup
---
Dinner
Stir Fried Chinese Spinach with Silver Fish
Braised Hong Zao Chicken
Double Boiled Pork Ribs Soup with Chinese Yam & Red Dates
Menu 15
Lunch
Stir Fried Sweet Peas with Scallops & Carrots
Silver Fish Omelette
Pig's Trotters in Vinegar
---
Dinner
Stir Fried Cauliflower with Lean Meat & Ginger
Steamed Threadfin with Dang Gui & Black Fungus
Double Boiled Black Chicken Soup with D.O.M
Menu 16
Lunch
Baked Pumpkin
Steamed Chicken with Lily Flower & Dang Gui
Fish & Papaya Soup
---
Dinner
Luo Han Vegetable
Stewed Pork Ribs with Sea Cucumber & Black Mushroom
Ginseng Chicken Soup with Glutinous Rice
Menu 17
Lunch
Stir Fried Kai Lan with Lean Meat & Basil Leaves
Steamed Chicken with Black Fungus & Cordyceps Flower
Double Boiled Spare Ribs Soup with Black Beans
---
Dinner
Homemade Beancurd with Fresh Scallops
Braised Pork Ribs with Chestnuts & Wolfberries
Black Chicken Soup with Dang Shen, Chinese Yam & Tong Cao
Menu 18
Lunch
Wok Fried Nai Bai with Ginger
Steamed Sakura Chicken with Rice Wine
Fish Soup with Bai He & Gingko Nuts
---
Dinner
Stir Fried Snow Peas with Lean Meat & Wolfberries
Pan Fried Mirin Pork Chop
Double Boiled Chicken Soup with Yomeishu
Menu 19
Lunch
Stir Fried Pumpkin with Wolfberries topped with Honshimeiji Mushroom
Stir Fried Sliced Fish with Mixed Vegetables
Pork Ribs Soup with Ground Nuts & Red Dates
---
Dinner
Stir Fried Shanghai Green
Stir Fried Pork with Rice Wine & Ginger
Chicken & Fish Maw Soup
Menu 20
Lunch
Stir Fried Chinese Spinach with Crispy Ginger
Grilled Salmon with Capsicum
Spare Ribs Soup with Red Bean
---
Dinner
Stir Fried French Bean with Shiitake Mushroom
Silver Fish Omelette
Black Chicken Ginseng Soup
Menu 21
Lunch
Braised Lotus Root with Red Dates & Wolfberries
Teriyaki Grilled Fish
Lemongrass Chicken Soup
---
Dinner
Stir Fried Cauliflower with Lean Meat & Ginger
Braised Chicken with Chestnuts & Wolfberries
Fish & Papaya Soup
Menu 22
Lunch
Stir Fried Chayote with Silver Fish
Braised Sea Cucumber with Chicken
Fish Soup with Bai He & Yu Zhu
---
Dinner
Stir Fried Dou Miao with Ginger
Steamed Threadfin with Dang Gui & Black Fungus
Pork Ribs Soup with Lotus Root & Walnut
Menu 23
Lunch
Marrow Green with Vermicelli
Hong Zao Fish
Ginseng Chicken Soup with Glutinous Rice
---
Dinner
Stir Fried Broccoli with Fresh Abalone Mushroom
Sesame Chicken with Ginger
Pig's Tail with Eucommia Bark Soup
Menu 24
Lunch
Stir Fried Spinach with Wolfberries
Teriyaki Chicken
Pork Ribs Soup with Ground Nuts, Chinese Yam & Red Dates
---
Dinner
Luo Han Vegetable
Grilled Salmon with Mirin Sauce
Double Boiled Black Chicken Soup with Dang Gui & Chinese Yam
Menu 25
Lunch
Stir Fried Kai Lan with Lean Meat & Basil Leaves
Steamed Threadfin
Pork Ribs with Black Bean Soup
---
Dinner
Stir Fried Asparagus with Fish Maw & Capsicum
Steamed Egg with Minced Meat
Chicken & White Fungus Soup
Menu 26
Lunch
Shanghai Green with Ginger
Hong Zao Pork Ribs
Ginseng Fish Soup
---
Dinner
French Bean Omelette with Shredded Ginger
Stir Fried Sliced Fish with Mixed Vegetables
Double Boiled Chicken Soup with D.O.M
Menu 27
Lunch
Grilled Pumpkin
Pan Fried Fish Fillet
Pig's Trotters in Vinegar
---
Dinner
Stir Fried Chinese Spinach with Lean Meat & Basil Leaves
Steamed Chawanmushi with Fresh Scallops & Shiitake Mushroom
Double Boiled Sakura Chicken with Cordyceps Militaris Soup
Menu 28
Lunch
Wok Fried Nai Bai with Ginger
Teriyaki Grilled Fish
Black Chicken Soup with He Shou Wu
---
Dinner
Stir Fried Shiitake Mushroom with Black Pepper Sauce
Stir Fried Pork with Rice Wine & Ginger
Chicken & Fish Maw Soup